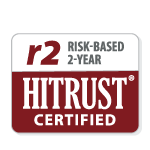 The security of data in the healthcare industry is of crucial importance. While the HIPAA Security Rule sets national requirements for protecting individuals' electronic PHI, the approach and implementation in meeting those standards can vary across healthcare entities. Integrating security methodologies from NIST, PCI DSS, ISO 27001 and HIPAA, the HITRUST Common Security Framework works to ensure that security and compliance are combined effectively in a standardized and measurable structure.
Working with a third-party certified vendor, the overall HITRUST assessment and certification process progresses through stringent requirements within a firm timeline. The final result is an organization's comprehensive information risk management and compliance program.
HITRUST is one of the contracted vendor relationships APS maintains to ensure an effective program of information security that definitively meets HIPAA regulations as well as other federal, state and third-party requirements.